Rooms at The Palmer House Hotel are exquisitely decorated with an open atmosphere. Whether it be a special event or an intimate evening for two, we have options for you.
Hotel Reservations:  866-834-9100 or 320-351-9100
Hotel reservations are by phone only. PLEASE DO NOT EMAIL FOR RESERVATIONS OR AVAILABILITY!!
Hotel Rooms & Suites
We are proud to be on the National and State Historic Registrar and a member of the Minnesota Hotel & Lodging Association and National Restaurant Association
Full size bed, bathroom w/shower, television.
Standard
Rooms 10, 11, 18, 19, 21, 22
Twice the size of our economy rooms. Furnished with a queen size bed, full bath and television.
Standard Plus
Rooms 9, 20
Our standard room plus a twin bed. $95.00 + tax (+$15.00 for 3rd guest)

 
Two rooms that include a Full Bed, Queen Size Bed, Bathroom with Shower. This room can also be opened up to include our double Jacuzzi suite.
Two Queen Size Beds in separate rooms, Full Bath and Upholstered Chairs.
Jacuzzi Suites
Rooms 6K, 12Q, 17K
Luxurious Suites with either Queen or King Size Beds, with their own Jacuzzi Room and Full Bathroom.
Double Jacuzzi Suite
Room 1. Opens up to Room 3.
Two Queen Size Beds, a Jacuzzi tub and 2 full baths.  The Jacuzzi Room is between 2 separate bedrooms. This suite can also open up to the Economy Suite (room 3).  Great for families or large groups of friends!
Frequently Asked Questions
Terms & Conditions
Rates Do Not Include Tax.  New Rates Effective 10/01/2023. Guests must be 21 or older to make a reservation and/or check-in. Guests under the age of 21 must be accompanied by someone 21 or over during the stay. Guests age 18 or under must be accompanied by a parent or legal guardian. Paranormal Investigations without prior approval are not allowed.
What's included with my stay?
Television with Expanded Cable, Refrigerator, Heat & Air Conditioning, Hair Dryer. Corporate Discounts Available
What Amenities And Services Are Offered?
Free Wireless Internet Access, Fax/Phone, Daily Maid Service. All Rooms Are Non-Smoking. Pets Are Allowed With a $20 Fee per pet, per night.
Hair Dryers in All Rooms. Irons and Ironing Boards Available Upon Request. AAA Approved  
What are the hotel floor plans?
The Palmer House Hotel in Sauk Centre is a 3 story building consisting of a restaurant, café, pub and hotel.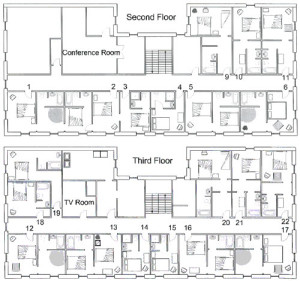 What is your refund policy?
The Palmer House Hotel does not offer a refund policy.  There is a 48 hour cancellation policy.
What are your check-in and check-out times?
The Palmer House Hotel has a check-in of 3pm and check-out of 11am.  Special requests may come at an additional charge.
Can I upgrade after reserving my room?
Provided the upgrades are available, absolutely you may upgrade your room!  Additional charges may apply.
What Our Customers Are Saying
Don't just take it from us, let our customers do the talking!
"Stopped by for lunch today. This being the main Street of America, I ordered a cheeseburger and fries. Coffee was tasty, service was friendly, and the restrooms, hidden under the grand stairway. made you feel like it was the 1910s. A unique and not unpleasant experience! "
"
We stayed for one night last weekend. The building is BEAUTIFUL!!! You can tell it is an older building, but that's what makes it so beautiful. The room was Very clean and well worth the price. We decided to eat supper down stairs and the food was AMAZING and the prices were very good. There was even live music later in the night. The best part about our experience was the staff. Everyone we met was so personable and down to earth. They are truly wonderful people. They had no problem talking to you about the stories of the hotel (the hauntings etc….) but if hauntings aren't your thing I would not rule out this hotel. It was by far the best experience we have ever had at a hotel. If I could give it more stars I would. Thank you everyone at the Palmer House Hotel for everything! We will defiantly be back soon!
"
Reserve Your Room!
Hotel Reservations:  866-834-9100 or 320-351-9100
Hotel reservations are by phone only. PLEASE DO NOT EMAIL FOR RESERVATIONS OR AVAILABILITY!!