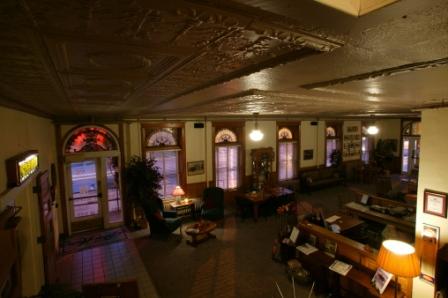 Event Calendar The Palmer House is a happening place! Check out what's coming up…
Purchase of any tour reservations or event tickets does not include cost of hotel stay/travel/food. Please call us to make hotel reservations ahead of time as we are not able to offer any refunds for tour reservations. Event tickets are subject to event organizer policy.
29

29.August.Sunday

No events

30

30.August.Monday

No events

31

31.August.Tuesday

No events

01

01.September.Wednesday

No events

02

02.September.Thursday

No events

03

03.September.Friday

No events

04

04.September.Saturday

No events
Historical Tours Available
Please use the event calendar to choose from available tour dates. Follow the instructions and use the "Buy Now" button to make your reservations.
Join us to discover the fascinating history behind the Historic Palmer House Hotel. Learn more about the previous owners, famous guests, and unregistered residents. Afterwards your tour guides will take you to our infamous basement. This part of the hotel is closed to the public and can only be accessed during our tours. Once in the basement, we will conduct a mini investigation to find out who may still be checked in to the hotel after all these years, with ample time to take as many pictures as you'd like!
The cost to have this unique Palmer House experience is $35 per person and is not refundable under any circumstances. Tours will last approximately 2-3 hours.