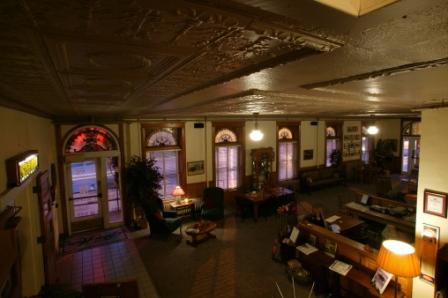 Event Calendar The Palmer House is a happening place! Check out what's coming up…
Purchase of any tour reservations or event tickets does not include cost of hotel stay/travel/food. Please call us to make hotel reservations ahead of time as we are not able to offer any refunds for tour reservations. Event tickets are subject to event organizer policy.
25

25.October.Sunday

Café & Pub Open to Public

The Palmer House Hotel's Café & Pub will still be open to the public during these events.

Spirit Experience Weekend

500 Sinclair Lewis Avenue, Sauk Centre, MN, United States

CLICK HERE TO CONTACT HEIDI 

Spirit Experience Weekend – Oct 22nd – 25th, 2020

A spooky weekend hides in the shadows….

​

At the historic Palmer House Hotel in Sauk Centre, MN

A Halloween-themed weekend of creepy experiences and haunted exploration. This is a witchy version of the spring Spirit Experience weekend. The nights are longer, the activities spookier. You will uncover a variety of Halloween inspired activities in and outside of the Palmer House (see itinerary below). You'll also have time to slither around in between activities to explore, eat, and socialize with other souls at the event.

​

Tickets are $100 (non-refundable) and include all activities in the itinerary  below unless otherwise noted. Food and hotel costs are separate. Palmer House Event Special – Free Thursday night hotel room when you book Friday and Saturday night!

​

Event restrictions and requirements: Attendees, must be ages 16+, anyone under 18 must be accompanied by a parent or legal guardian. Weekend hotel reservations must be for a minimum of Friday and Saturday night. If you are only able to reserve one night, please do not purchase event tickets in advance.

​

Listed Below: How to Register, Events Itinerary and Room Availability

​

1. How to Register

Fill out the Contact Form to let Heidi know you are interested in the event and what room you are interested in based on current availability
(see room list below)

Once the rooms details are worked out, purchase event tickets Here (tickets are non-refundable)

Once the purchase has been confirmed you will receive an email from Heidi with your reservation code so you can call the Palmer House and reserve that room in your name. Rooms may not be reserved without the reservation code.

This systems prevents any double room bookings and ensures everyone participating in the event has paid in advance for their ticket.

Any questions, please fill out the Contact Form.

​

2. Weekend Itinerary

Thursday night:

7:00pm Witchy Welcome – We welcome all ghouls and goblins for a weekend of ghostly delight in a ceremony under the October waxing crescent moon. An opening of spooky style as we slink outside in the dark of night. Outside ceremony (weather permitting) at Sinclair Lewis Park near the Palmer House.

Events on Friday:

11:00am-12:30pm Magical Spells, Potions, and Tools – New Class! We take a peek at items helpful in life's journey. Easy to work with tools if you are a beginner witch or warlock!

7:00pm-11:00pm Séance and Palmer House Investigation – We'll start in the basement and welcome in the souls of the Palmer House and other spirits to join us for a spirit communication session. After the séance we investigate the entire hotel.

Events on Saturday:

11:00am-12:30pm Gallery Reading with Heidi and Tim – Heidi and Tim will work with their spirit guides to give answers your questions  you bring to the table. Our goal is to answer one question for every person who would like to participate!

7:00pm-11:00pm Halloween Costume Party – A fun night to celebrate Halloween! Contests, games, treats and fun! Dressing up is a must!!!
Historical Tours Available
Please use the event calendar to choose from available tour dates. Follow the instructions and use the "Buy Now" button to make your reservations.
Join us to discover the fascinating history behind the Historic Palmer House Hotel. Learn more about the previous owners, famous guests, and unregistered residents. Afterwards your tour guides will take you to our infamous basement. This part of the hotel is closed to the public and can only be accessed during our tours. Once in the basement, we will conduct a mini investigation to find out who may still be checked in to the hotel after all these years, with ample time to take as many pictures as you'd like!
The cost to have this unique Palmer House experience is $30 per person and is not refundable under any circumstances. Tours will last approximately 2-3 hours.
We prefer that group sizes remain under 20.
Contact Page