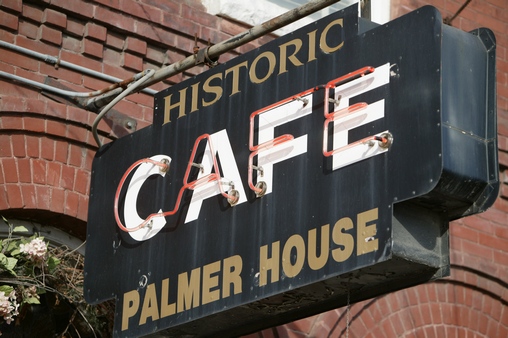 The Palmer House Hotel.
A company passionate about your needs; business or pleasure.
Address: 500 Sinclair Lewis Avenue, Sauk Centre MN
Business/Bar/Hotel Hours: 8am-Midnight Monday-Thursday, 8am-1am Friday & Saturday.
Kitchen Hours: 7am-9pm Sunday-Thursday, 7am-10pm Friday & Saturday.
When you stay at The Palmer House, choose from a room tucked away in the recesses of the hotel or directly above the Original Main Street where you can observe the hustle and bustle of small town life. The spacious lobby is perfect for whiling away the hours reading & visiting. The distinct photography scattered throughout the hotel, restaurant and lobby tell the tale of Sinclair Lewis and his night clerk duties, as well as the story of the town. The Palmer House Hotel was at the center of Sinclair Lewis' boyhood home, and the Original Main Street, of Sauk Centre.
Reserve Your Room!
Hotel Reservations:  866-834-9100 or 320-351-9100
Hotel reservations are by phone only. Online or email reservations are not available at this time.
Contact Page